Halloween Quotes
"Eye of newt, and toe of frog, Wool of bat, and tongue
of dog, Adder's fork, and blind-worm's sting, Lizard's
leg, and owlet's wing, For a charm of powerful
trouble, Like a hell-broth boil and bubble."
- William Shakespeare.
"'Tis now the very witching time of night,
When churchyards yawn and hell itself breathes out
Contagion to this world."
- William Shakespeare.
"Double, double toil and trouble; Fire burn, and cauldron bubble."
- William Shakespeare.
'Tis the night - the night
Of the grave's delight,
And the warlocks are at their play;
Ye think that without
The wild winds shout,
But no, it is they - it is they.
- Arthur Cleveland Coxe.
" Halloween is huge in my house and we really get into the 'spirits' of things. A few years back, my wife was frustrated with the same old stupid sound effects tape we would play, which ends with the theme from 'Ghostbusters' and 'Monster Mash'. I told her that Halloween is way too cool a holiday to suffer through this every year."
-- Dee Snider
"A grandmother pretends she doesn't know who you are on Halloween."
-- Erma Bombeck
"Deep into the darkness peering, long I stood there, wondering, fearing, / Doubting, dreaming dreams no mortal ever dared to dream before."
-- Edgar Allen Poe
"You gain strength, courage, and confidence by every experience by which you really stop to look fear in the face. You are able to say to yourself, 'I lived through this Horror. I can take the next thing that comes along."
-- Eleanor Roosevelt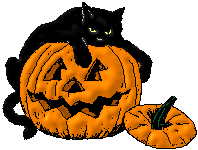 Black cats have long been associated with Witches and Halloween. Many superstitions have evolved about cats. It was believed that witches could change into cats. Some people also believed that cats were the spirits of the dead.
O
ne of the best-known superstitions is that of the black cat. If a black cat were to cross your path you would have to turn around and go back because many people believe if you continued bad luck would strike you.