Me and my brother...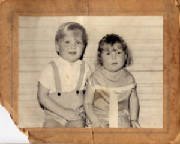 My name is Anne; I've lived in the UK all my life. I have a twin brother who is slightly older than me by a few minutes; we were born on the 7th of November 1967.. I'm the shy one of the two but I think I like it that way because I don't think I have the personality and courage of my brother and being quiet and withdrawn that's the best way to describe my shyness. I enjoy making friends on the internet because I find it hard talking to people face to face, I don't know what anyone else thinks, but being on the internet I get to talk to lots of great people and that's something I wouldn't normally be able to do...plus I love the idea that I can get to chat to people from all different countries and find out about the different Cultures, Interests and Lifestyles...
I've had a computer for a while now and when I started people would have classed me as a computer DUMMY...LOL apart from having a 1 week course at the age of 16, I'd never used one before and now I've managed to build a Homepage and achieve lots of great things including having lots of interesting friends that I always enjoy catching up with.... The best thing about good friends is if you have any problems with my computer they're always willing to help where they can :0)
If you would like to listen to some of my favourite tunes whilst browsing through my site.. click on a link below and enjoy :0)
More about me
Signed Picture
When I were younger I did training for First Aid, Fire Fighting, Phonetic Alphabet, Morse Code etc, during this time I met people like Charlie Williams (Comedian), Prince Philip (The Duke of Edinburgh) and a vast amount of other stars.
At 12 yr. old I won a First Aid competition with Saint Johns Ambulance which was in the local paper and when I was 17 I started collecting autograghs..1 of which was Joey from a British comedy called Bread.
The picture above is an Autograph from a TV star from years ago and the TV program was 'Crossroads' I wonder how many of you remember it?..LOL

'Things I've learnt in my teens'.. New Updates!
Please vote for my site!
If you would like to vote for my site you will find all competition links on my One-stop voting page below.. I would appreciate any support given :)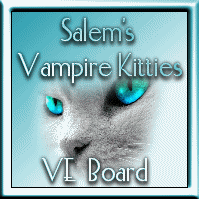 Messenger image..

This is the picture that I use on my yahoo messenger. I surfed the Internet for days to find the best picture that describes my username.. I found a couple more but I thought this was the best all round. If anyone out there has seen anything like this that you may think I'll be interested in ... Please could you send it to my email address which is on Contact Me PAGE.. :o) THANKS FOR ANY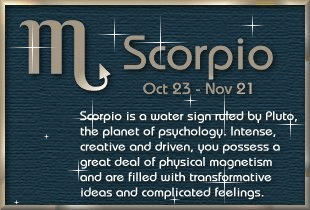 MEANING BEHIND THE SIGN
Sign: Scorpion
Eliment: Water
Planet: Pluto
Gemsone: Opal
Flower: Carnation
Fiery passion is the stock and trade of Scorpio. Anything in life is possible once your intense powers are given aim. The energies of your guiding Planet Pluto are characterized by the sweet, spicy musk fragrance formulated to enhance the Love, Power and Money aspects of your life.
'More about the month November'
History of 1967.. why not click on the links below to find out about the music and events of my birth year.