The history of this special day
St Valentine..was a bishop of Rome who was martyred on February 14, 270 AD. The Roman emperor Claudius II made getting married illegal.because he blamed marriage and love for the reason why men didn't join his army. Bishop Valentine believed in love! So he carried on marrying people behind his back, even though it was illegal. Claudius II ordered Valentine beheaded for breaking the law.
In 496 A.D. Pope Gelasius renamed Lupercalia to St. Valentines Day. We now honor the patron Saint of love on the February 14th.
Valentines day is known more for us adults/teens to send our loved ones cards, gifts, flowers or chocolates but you see the odd few children sending cards to there first love.... Awwwwwwwwwww (So Sweet)!!!

Be My Valentine: What Does That Mean?

Be my Valentine: What does that mean?
Each of us must walk through life alone,
More deeply desolate than we have known,
Yearning for a truth we've never seen.
Valentines are from beyond that dream,
Are like a sunrise on a world of stone.
Little on this journey can we own
Except as miracles might intervene.
No way but through loving might we give
The freedom of our being to another.
In such a sacrifice we hope to live
No longer bound by dreams of flesh and bone,
Even as we bind our lives together.
Before I Knew You, I Had Always Loved You

Before I knew you, I had always loved you,
Even as I dreamed of whom I'd love.
My inner picture was a portrait of you
Years before your heart my heart would move.
Vistas of enchantment are but rarely
As we find them in reality.
Love with you is what I dreamed, but really,
Eden as no dream could ever be.
Nor is this the magic of the moment,
The proper costume for the holiday.
In words like these one finds the winnowed ferment,
Not of the desire, but of the way,
Else lost amid the longings of the day.
Blessings Are the Things We Take for Granted

Blessings are the things we take for granted.
Each holiday we notice what we see.
Most know the Earth is utterly enchanted
Yet walk through life and love mechanically.
Valuing one's gifts takes resolution
After days and nights of fantasy.
Love brings the sweet relief of absolution,
Enveloping our hesitance in need.
No touch inspires so swift a revolution,
Transforming all the hieroglyphs we read.
In your love is the charity of spring,
Neither self-obsessed nor blinded by some creed,
Embracing the grey dawns that blessings bring.
Each Day Your Smile Becomes My Morning Star

Each day your smile becomes my morning star.
I look at you and then my feelings shine.
From you I learn far more than words or numbers:
You're the book that someday will be mine.

You're the one whose love my love of learning
Will one day trace in its ancestral line.
For all the ways you help me grow towards beauty,
I ask you please to be my Valentine.
Valentine's a Day to Say, "I Love You"

Valentine's a day to say, "I love you,"
A ritual that stages something real,
Letting out the truth of what I feel
Even as I think it often of you.
Nor could I with such grace without this day
Tell you that I'm grateful that I have you,
Impress upon you just how much I need you,
Needing such a frame for what I say
Even as I would my heart reveal.
Words Can Tell What Hearts Divine

Words can tell what hearts divine
This most romantic time of year:
So will you be my Valentine?

I'll be yours if you'll be mine
Till golden moon meets midnight drear.
For words can tell what hearts divine

When air's perfume and water's wine,
And cupids hover at one's ear:
So will you be my Valentine?

And do we feelings dare define
In phrases adamant and clear?
For words can tell what hearts divine,

And souls can step across a line
On days when angels wait to cheer:
So will you be my Valentine?

Ah, love! Let love this one day shine
On fancies lush and passions sheer!
For words can tell what hearts divine:
So will you be my Valentine?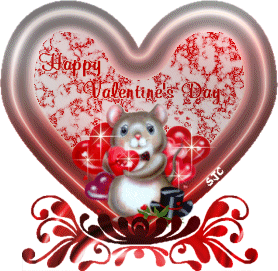 Love Mystery for my Star Sign: Scorpio

You may be an ideal lover, but not always an ideal wife/husband owing to your aggressiveness but are also a good provider and very protective. You enjoy the domestic comforts and make willing sacrifices for your home.
You are a great and romantic lover, very ardent in your attentions, sometimes more than your partner can cope with. You are very demanding in your sex life, with much physical ardour. However, sometimes the eagle that is also your sign makes you capable of platonic love. Your strong physique and glamour often make you physically very attractive, very sensual with your innate magnetism.
Your marriage is almost always a very enduring one, despite the fact that you are difficult to live with, and not above a fling or two, which your partner will have to overlook, as it does not mean anything for keeps.